Your Guide to Truck Travel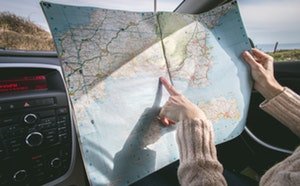 "Oh no, I left my phone charger!" "Can we turn around? I don't know where my hairbrush is." Staying organized on the road is the key to a smooth road trip. Bartow Ford, your Winter Haven Ford dealership, has your guide to truck travel.
Prepare Your Truck
If you're going on a long trip, there are a few steps you can take to prepare your truck.
Install bed rail caps:

This can help protect your truck bed from scrapes or dent caused by heavy cargo.
Install a non-skid

bed liner

:

This will help prevent any damage to the bed's factory finish. Most are removable or factory applied.
Install side rails:

These can help you tie down your cargo.
Install tie-down anchors in the bed floor:

To safely anchor your cargo to the truck bed, D-rings can be drilled directly into the bed floor. Note that this might devalue your vehicle.
Keep a cooler:

Have a long road trip? A large cooler will fit perfectly in your truck bed and let you haul water and groceries.
Install a permanent toolbox:

There's nothing worse than a loose screw. A toolbox can help you take care of any cargo shifts in transit.
Stay Organized
For a long road trip, organization is the key to packing. While rolling your clothes might help you fit more in your suitcase, it won't help you fit your suitcase in the car. Follow these tips to pack your truck:
Fill every nook and cranny:

Under the seat? A great place to store your backpack. The glove compartment? Tuck away a good book. Utilize all space during a road trip.
Pack a basket:

For quick meals on the go, pack a snack basket. This prevents you from having to wait until the next exit when you get hungry.
Tubs:

For longer trips, pack a plastic tub for each child. They can hold those odd items you don't want sitting next to your clothes.
Pack smart:

What are you going to want the minute you get to your destination? Make sure the items you'll need are easily accessible.
Road trips can be great, and staying organized makes it easy to unpack once you get to your destination. Bartow Ford, your Winter Haven area Ford dealership, can make sure your car is in great condition before you go. Schedule a maintenance appointment at (800) 303-4016.