Local Star Signs with Florida State University at Bartow Ford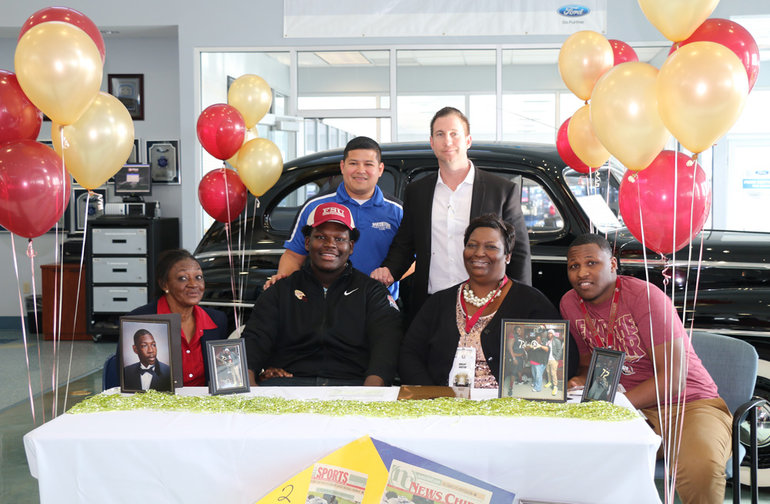 Former Winter Haven High School Offensive Lineman Mike Arnold signs with FSU
(Bartow, FL) Mike Arnold, the former Winter Haven High School offensive lineman, officially signed his letter of intent with Florida State University (FSU) at Bartow Ford during National Signing Day, February 3, 2016.
"It's been a bit of a journey, but I've managed through and gotten further for what I want with my life," stated Mike during the signing.
Ranked by ESPN as a 3-star recruit, the young athlete will have four years of eligibility with the University. Originally signed with Virginia Tech, Arnold's grades fell short of the NCAA qualifications. Electing to spend a semester at Milford Academy Prep School, Mike worked hard to improve his academics, and now ranks number one prep player in the state of New York.
Bartow Ford Co. hosted Mr. Arnold and his family for the signing event. A celebration of his milestones, the event featured many speakers including his former High School Coach.
"We've known Mike for about four years now. What a dear person he is! He is a great friend and a great teammate; aside from that, he is a very talented athlete and football player. We are very proud of him," gleaned Charlie Tate, Winter Haven High School football coach.
Bartow Ford has been actively involved with student organizations for many years. Through TheBRichProjectInc., Bartow Ford was able to host Mr. Arnold and his family for an afternoon of celebration.
"At Bartow Ford, we strive to work with student organizations that help build character and drive in young adults. This young man embodies that drive, showing both determination and excellence in his sport. We wish Mr. Arnold the best of luck as he ventures towards this new chapter in his career," concluded Benny Robles Jr.