How to Clean Your Vehicle Like a Ford Pro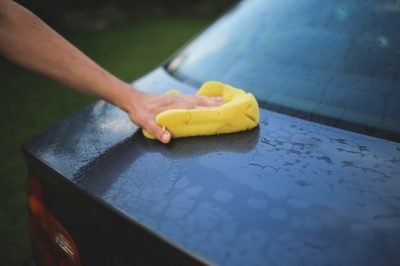 If you've ever bought a new or used vehicle from a dealership, you know how well they detail before selling; even the highest-mileage sedan on the lot can look brand new by the time a dealership's service department finishes its work. Bartow Ford Winter Haven is here to provide tips that can help you detail your own vehicle with the help of a professionally-trained Ford technician.
Examine Your Vehicle
Before getting started, complete a thorough examination of your vehicle and make note of any problem spots such as scratches in the paint, tears in the upholstery, or tarnished hubcaps. Assessing the damage will give you an idea of what supplies you'll need.
Wash the Exterior
Start your detailing work with a standard exterior wash, which will dislodge any dirt and debris from the exterior so you can do a more thorough washing once everything is rinsed. Use a lambswool wash mitt and car washing soap to avoid causing damage. After the initial wash, you'll be able to more closely examine your car and find any additional scratches and paint chips that need to be addressed.
Clean the Interior
Use a vacuum to eliminate dirt, dust, and other particles from the interior of your car, including the seats. For areas like cup holders, a can of compressed air can be used to break up dirt so you can easily remove it. Once you've vacuumed the interior, remove any stains using carpet and upholstery cleaner.
Focus on the Details
The difference between a standard car wash and detailing is in the "details." Use a cotton swab and the corresponding cleaner to remove dirt from crevices both inside and outside the car, following up with a cloth and vinyl cleaner to shine any indoor trim pieces until they look brand new.
Although detailing a car takes time, Bartow Ford Winter Haven technicians can prove that it is well worth it. With a little extra time and the right supplies, you can save significant money on paying for detailing, enhance the life of your car, and make it look as though you've just driven it off the showroom floor.