Heavy Duty Servicing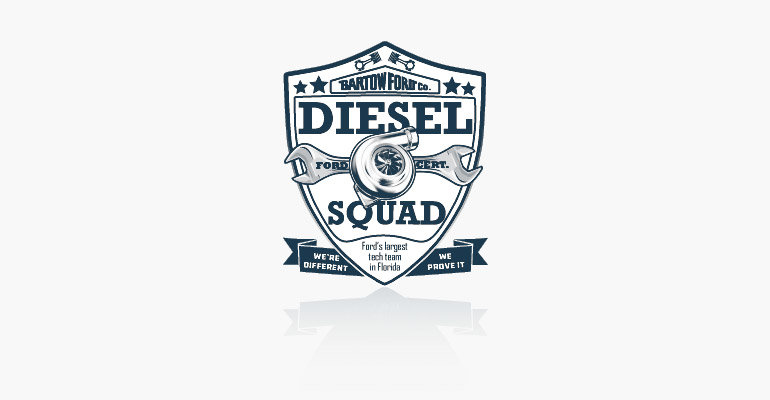 When it comes to servicing or repairing your trucks, you won't want to go anywhere other than Bartow Ford. Not only are our technicians thoroughly qualified, but our servicing bays are also specially equipped to handle the majority of diesel trucks in Bartow, including large, heavy-duty trucks and commercial vehicles. Find out more about how we work to be your number one choice for servicing your vehicle.
Our Facilities
At Bartow Ford, we are fortunate enough to have extensive facilities, ensuring all of our customer's needs can be met as quickly as possible. One of our most popular features is the Quick Lane service we provide for consumers, which allows anyone to bring in their vehicle for regular maintenance work without an appointment. Beyond the Quick Lane, we have 70 bays, some of which are dedicated mainly to Heavy Duty vehicles. These particular bays are significant because they can lift incredibly large vehicles (up to 20,000 lbs). That service alone is hard to find outside of Bartow Ford and is one of the reasons businesses bring their entire fleets to us for their servicing needs.
Our Team
The men and women who work in our servicing facilities are integral to ensuring your vehicles are well taken care of. We are proud to have the largest team of certified technicians and master certified mechanics for Ford vehicles in the surrounding area. They make part of our team or 35 talented individuals, seven of which have diesel certifications. Our dealership has received recognition from Ford itself, reassuring us that we are on the right path and helping customers to the best of our abilities. We call ourselves the Diesel Squad, and we mean business!
Services We Offer
D.O.T. Inspection
Computerized All Wheel Alignment
Electrical Diagnostics
VIS-Check Vehicle Diagnostics
Complete A/C Repair
Collision Repair
Pickup & Delivery Available
Complete PM Service & Lube
Complete Brake Service
Differential Rebuilds
Transmission Rebuilds
Engine Rebuilds
Authorized Warranty Center
100% Satisfaction Guaranteed
Visit Bartow Ford Monday through Saturday to find the perfect diesel truck in Bartow for you, or to service the ones you already own. Our team of educated and experienced specialists will gladly help you get on your way. We are conveniently located at 2800 U.S. 98 N.