Ford's 20th President's Award Winner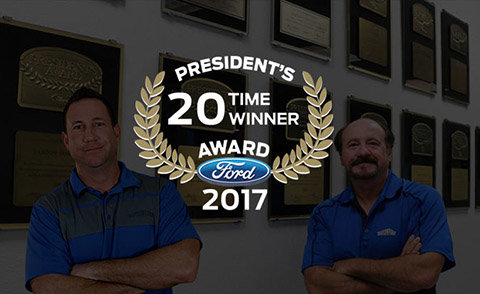 70 Year Old Central Florida Company Receives Prestigious Awards for 20h Time
BARTOW, Florida – Bartow Ford Company, who recently celebrated 70 years in business, has again received Ford Motor Company's highest honor, the President's Award.
This award, created in 1998, acknowledges Ford Dealerships that provide exceptional service and vehicle buying experiences for their customers. With over 3,000 Ford dealerships operating in the country, this accomplishment is attained by few; approximately ten percent of the dealerships are honored each year. For 2017, Bartow Ford is one of 327 dealerships nationally, and only 16 in Florida.
But winning that award 20 times? Only 18 dealers in the nation – including Bartow Ford – have achieved that level of excellence.
Representatives from Ford Motor Company were on hand at the dealership on Tuesday, May 15, to make the presentation. At the same, representatives from Ford Motor Credit were, because the Polk County dealership was also named to their list of the Top 100 Dealers in the US for Consumer and Commercial Credit.
"Receiving the President's Award 20 times represents the continuous hard work and dedication of our people. This requires teamwork and total commitment to the care of the customer," says Bartow Ford President, Benny Robles Jr. "I am so proud of everyone in the Bartow Ford family. Congratulations to them!"
The President's Award is given annually to dealers who meet the criteria set forth by Ford Motor Company through programs such as Consumer Experience Movement designed to transform the dealer-customer relationship.
###
Founded in 1948, Bartow Ford Company is a privately held company providing new and used vehicles, and automotive services. The Central Florida facility, located on 30 acres of property in Polk County, with over 200 employees, includes a service and parts department, collision center, rental vehicles, commercial services and a Quicklane. Bartow Ford has achieved Ford Motor Company's prestigious President's Award 20 times. For more info on Bartow Ford Company, please visit www.BartowFord.com.
If you would like more information about this topic or to schedule an interview with Benny Robles Jr., please contact Amy Sumerlin at 800-533-0425 or email amysu@bartowford.