Ford Mobility Motoring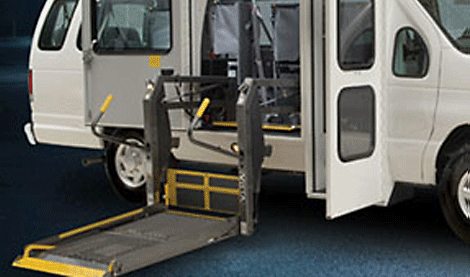 Your car should be designed for you. With Ford Mobility Motoring, your vehicle is adapted to your individual needs. Bartow Ford, your Winter Haven area Ford dealership, walks you through what modifications are available for each model.
Carriers
Carriers are designed to help you easily and securely transport a wheelchair or scooter. Available on cars, crossovers, SUVs, trucks, and vans, Ford offers four types of carriers that allow wheelchairs to be safely secured to your vehicle.
Hand Controls
Available on cars, crossovers, SUVs, trucks, and vans, hand controls enhance the operation of whatever vehicle you choose.
Electrical
This control is divided into two categories: primary and secondary. Primary controls operate the gas, brake, and steering functions. Secondary controls operate all other vehicle functions, including touch pads, power headrests, and voice-activated controls.
Push Pull Control
This control will slow the vehicle when pushed towards the floor and accelerate the vehicle when pulled toward the driver.
Push Right Angle Pull Hand Control
When pushed toward the instrument panel, the vehicle slows down. When pulled toward the driver, the vehicle accelerates.
Push Twist Control
The vehicle accelerates when this control is twisted and slows when it is pushed toward the floor.
Quad Hand Controls
This is an extra, L-shaped bracket that's attached to the hand controls.
Push/Rotary Control
When pushed forward, the vehicle slows. The vehicle accelerates when it is rotated backward.
Lifts
Lifts can pick up wheelchairs or scooters and store them inside or outside your vehicle. They come in two types: platform and hoist lifts.
Hoist Lifts
There are four types of hoist lifts, including the Car Top Lift, the Cargo Area Lift, the PickupT Truck Lift, and the Trunk Lift.
Platform Lifts
This lift is stored under the floor of a van or in the side or rear and requires two doors or a sliding door to operate.
Parking Brakes
Parking brakes can either be manual or electric. The manual brake extends upward and can be reached by hand, while the electric brake can be reached by foot.
Power Assist Seats
These seats allow for easy entry into your car. Two innovative systems feature rotating seats that lower for ideal, easy access.
Ramps
Ford has four ramps that allow vehicle entry while using a wheelchair. Ramps include fold-out, in-floor, manual, and power.
Steering Devices
With 15 possible configurations, steering devices allow someone with limited arm, hand, or wrist mobility to steer with confidence.
Wheelchair Restraints
Restraints allow a wheelchair to be securely fastened inside the car with or without a person in it.
Electric Restraint System
This automatically locks in place via a device on the wheelchair and the floor of the van.
Manual Restrains
Four straps fit snugly around the wheels of the wheelchair to prevent rolling.
Upper Torso Restraint
Paired with wheelchair restraints, this provides extra stability for someone with weak muscles in the upper torso area.
Ford Mobility Motoring offers a reimbursement of up $1,000 on eligible vehicles. To see if you meet the qualifications, check out the program details. If you're looking for an inclusive vehicle, stop by Bartow Ford, your Winter Haven area Ford dealership. We can help you find the vehicle that's right for you. Give us a call at 800-303-2016 or contact us online to learn more.