College Car Basics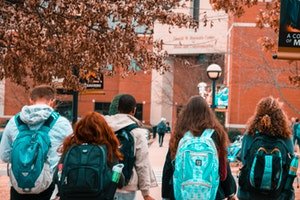 Having a car on campus gives you freedom in college. It makes it easy to get home from those late night study sessions and doesn't limit you to the food on campus. However, taking your car to college means taking care of it. Bartow Ford, your Lakeland area Ford dealership, can help you keep your car in tip-top shape.
Know Your Maintenance Schedule
It's college — the last thing you want to add to your budget is a new car. With regular tune-ups and basic maintenance, you can extend your car's life. Make sure you follow a basic maintenance schedule:
Every Three Months or 5,000 Miles
Brake fluid check

Lug bolt inspection

Oil change

Power steering fluid check
Every Six Months or 10,000 Miles
Battery check

Brake inspection

Oil change

Power steering fluid check

Spark plug wire check

Tire depth check
Every 15,000 Miles
Brake inspection

Fuel pressure regulator inspection

Spark plug wire check

Timing belt inspection

Tire depth check
Know What to Keep on Hand
Your car should always have a roadside emergency kit. A basic kit should include:
Blanket

Bottled water

Carjack

First aid kit

Flashlight

Jumper cables

Non-perishable food

Phone charger

Screwdriver

Spare tire

Tire pressure gauge
Depending on where you're heading off to college, your kit might also need to include a snow brush and an ice scraper.
Know Your Campus
Being familiar with your campus can help prevent circling around the parking lot hunting for the only available spot. At the start of the semester, check to see where the free parking spots are, and make sure you have whatever parking pass or permit you need; you don't want all your money to go to unnecessary parking tickets!
When your car is well-maintained, you can rely on it throughout college. Take it to Bartow Ford, your Lakeland area Ford dealership, whenever you're home on break! We can help make sure that your car is in great shape. Schedule an appointment by calling (800) 303-4016. Short on time? With our night owl services, we're sure to have an appointment that fits your schedule.